Love, Relationships and Content Marketing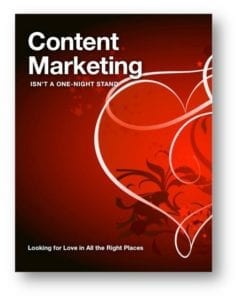 All you need is Love.
Love is all you need.
So said the Beatles several decades ago, and it's still true today. I'm not talking about romantic love (I'm no expert there) but rather the kind of wooing it takes to get perfect strangers to like your message – and maybe even love your message so much that they become customers.
I'm talking about Content Marketing, and its ability to build long-lasting relationships.
My ebook, "Content Marketing Isn't a One-Night Stand," puts forth a four-step content marketing process: deciding what you want in a business relationship, understanding your ideal "mate," putting yourself out there with honest content, and staying pure in your intent as you grow newfound friendships (leads).
It's been many years since my last first date, but that sounds like a strong metaphor to me!
Go ahead and download the ebook – it's free – and then let me know what you think.
I do hope you like it. After all, love is in the air!